Optimize Your Operations at Scale
Sense and monitor every asset, everywhere.
Configure our flexible platform to address multiple use cases.

Trusted by the world's leading companies
The world's leading and emerging companies must continually assess and improve their operational performance in order to remain competitive. However, it's difficult to collect and analyze all physical and digital data across disparate systems and processes, and nearly impossible to achieve it at scale.
Thinaer links innovative IoT-enabled sensors, ingesting millions of data points every second, and incorporates real-time human feedback, to capture the full operations picture, then drive significant business outcomes for our customers.
Comprehensive, proven,
yet easy to deploy
The Thinaer platform delivers AI as a Service to optimize every aspect of your operations, which translates into improved productivity, reduced costs and rapid ROI.
Speed ROI by deploying
AI as a Service
Link innovative IoT sensors to pinpoint each asset's location and monitor every environment
Apply machine learning models and manage inventory on demand
Optimize workflows to reduce waste and improve productivity
Scale seamlessly across divisions or locations
Uncover root causes of
complex issues
Integrate physical, digital and human experience data to optimize interaction of people, processes and equipment
Utilize scheduling diagnostics to minimize downtime
Uncover root causes of
complex issues
Integrate physical, digital and human experience data to optimize interaction of people, processes and equipment
Utilize scheduling diagnostics to minimize downtime
Accelerate digital transformation
with crowd-sourced feedback
Add the "human factor" for a complete picture of workflow, equipment and employee performance
Intercept issues and mitigate them in the moment
Increase accuracy and quality of feedback to inform alerts and notifications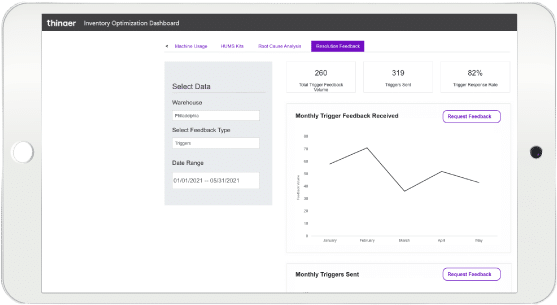 Optimize without
paralyzing operations
Transform operations strategically at a pace that drives measurable results without sabotaging critical workflows
Follow proven methodologies to ensure widespread participation and benefit
Quickly install with hardware-agnostic functionality
Easily port data to/from other critical systems (e.g. integrate with ERP system)
Optimize without
paralyzing operations
Transform operations strategically at a pace that drives measurable results without sabotaging critical workflows
Follow proven methodologies to ensure widespread participation and benefit
Quickly install with hardware-agnostic functionality
Easily port data to/from other critical systems (e.g. integrate with ERP system)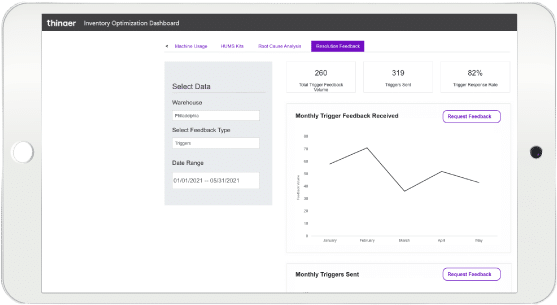 Learn more about Thinaer's proven platform