Thinaer's enterprise platform delivers digital transformation that scales.
Industrial Internet of Things Hardware
Bluetooth Low Energy (BLE) Devices, BLE Passive Stickers, Cellular Beacons, WiFi Gateways
SONAR User Interface & Dashboard
Operations Data, Device Management, Alerts, & Notifications
Employee Feedback App
Real-time Employee Feedback, Knowledge Capture, Issue Resolution, Notifications
ML/AI Analytics
In-Platform Analytics, Machine Learning Models, Executive Reporting
Integrations & Security
API-Centric, Data Portability, High Security
Digital Transformation Consulting
User Adoption, Change Management, Learning & Development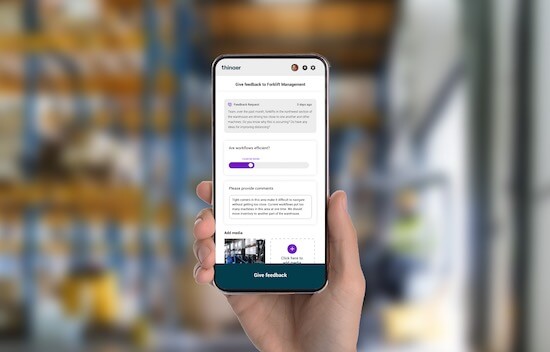 Configure our flexible platform to address multiple use cases.

Industrial Internet of Things
Thinaer's Industrial Internet of Things platform uses Bluetooth Low Energy (BLE) technology and an API-centric user interface to capture operations data. The platform tracks location, vibration, temperature, humidity, current draw, proximity, and more.
Employee Feedback App
Thinaer's patented feedback app embeds real-time feedback in your business processes. Use this application to gather input and insights from employees, clients, and other important stakeholders.
Our analytics integrates this employee input with IIoT data to help our clients understand what's hapening, why it's happening, and what to do about it.
ML/AI Analytics
Thinaer's in-platform analytics dashboard provides immediate insight into operations. Our analytics utilize machine learning and artificial intelligence designed to help clients improve efficiency and save costs.
Solve your biggest operations challenges with Thinaer's platform.
Thought Leadership Library