St. Luke's University Health Network uses Thinaer's platform to enhance real-time feedback in the hospital's medical education. Recently named the nation's #1 teaching hospital in Fortune / IBM Watson Health 100 Top Hospitals 2021: Teaching Hospitals, St. Luke's offers 38 accredited graduate programs, supports 387 residents and fellows, and has a history of training top physicians.
Research shows real-time feedback improves medical education
Research shows that real-time feedback is critical to medical education. When delivered well, real-time constructive feedback aids self-reflection, supports positive change, and encourages professional growth. When delivered poorly, it demotivates residents and fellows. This has a negative impact on professional growth. Therefore, institutions like St. Luke's endeavor to improve the feedback experience in medical education. To do this, they provide faculty and students with training and tools to facilitate a positive, two-way feedback experience.
St. Luke's University configures Thinaer's technology to align with feedback goals
Recognizing the importance of feedback, St. Luke's established a goal to improve interactions among attendings and residents. To help meet this goal, the organization partnered with Thinaer to pilot real-time feedback technology in its surgical residency program. St. Luke's uses Thinaer's platform to collect, manage, and assess educational feedback. Following each surgery, residents use the platform to submit a feedback request, inviting their attending to provide input on five key competencies that St. Luke's added to the platform. Attendings respond to requests and offer their residents positive and constructive feedback to help them improve. Similarly, residents provide attendings with feedback on the learning environment, rating their attendings on five key competencies associated with a growth-focused learning environment.
St. Luke's University Health Network configured the platform to incorporate key competencies.
Attending assessment of case difficulty.
Resident's ability to move operation along, degree of prompting/direction needed (per PGY level)
Resident's ability to articulate postoperative management (disposition, antibiotic plan, drain management, anti-coagulation, etc.).
Resident's ability to articulate operative plan.
Resident's familiarity with the patient's history and existing workup.
Technical ability (per PGY level). Economy of motion, handling of instruments/tissues.
Residents provide quantitative and qualitative feedback to attendings on the learning environment.
Attending creates an environment conducive to learning / teamwork.
Attending provided appropriate autonomy for my PGY level.
Attending provided teaching / coaching regarding surgical technique.
Attending provided timely and actionable feedback.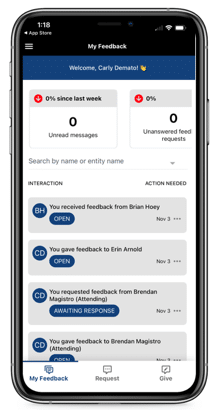 The feedback pilot facilitates positive learning interactions at St. Luke's
During the pilot, the St. Luke's team used Thinaer's platform to pinpoint opportunities for growth. For instance, one resident self-assessed his performance on the five key competencies, and the attending provided ratings, as well. The two were aligned on four of five points, but a difference emerged on the fifth competency. The attending provided the resident with a lower score than the resident's self-assessment reflected. This difference highlighted a unique opportunity for conversation and feedback that helped the resident improve his performance and enhanced the medical education he received.
Real-time feedback is critical to effective medical education. Thinaer's feedback platform facilitates productive feedback between our attendings and residents. During the pilot, we saw benefits from the platform, and have plans to expand it beyond the surgical residency program.

Dr. Brian A. Hoey, MD
Director, General Surgery Residency Program
Enhance medical education at your institution with Thinaer's feedback platform
Thinaer's real-time feedback platform is customizable, providing teaching hospitals and educators with the ability to collect feedback on the competencies that matter most to their programs. Want to learn more about Thinaer's real-time feedback solution for medical educators? We'd love to hear from you!